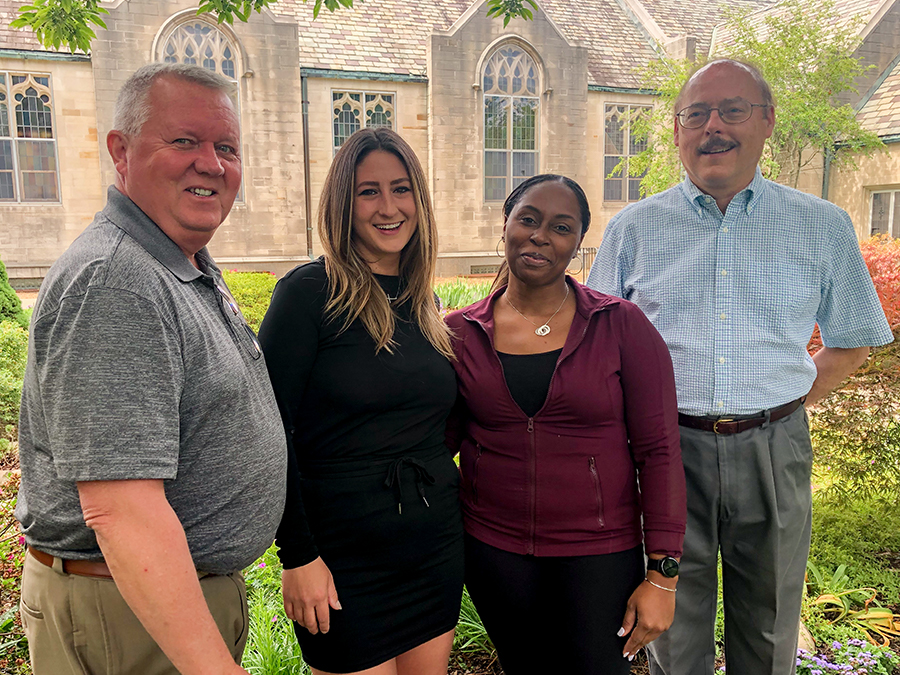 The GPUMC staff is ready to serve you.
GPUMC is served by a small but mighty staff that is devoted to the mission of the church and welcomes the opportunity to serve you.
The office is open from 9 am to 2 pm Monday, Wednesday, and Friday and 9 am to 11:15 am Tuesday and Thursday. Office administrator Kristyn Walker can be reached by phone from 9 am to 2 pm weekdays. If you need to be in the building in the afternoon, please contact Kristyn in advance to make the necessary arrangements.
Contact the office by phone at 313-886-2363 or by email at office@gpumc.org.
Ray McGee
Senior Pastor
Rev. Dr. Ray McGee joined GPUMC as senior pastor in July 2016. Previously, he had been senior pastor at Metropolitan United Methodist Church in Detroit, and earlier served at churches in LaSalle, Sebewaing, and Flint. He has a bachelor of arts degree in human resource management from Concordia University, and master of divinity and doctor of ministry degrees from Emory University's Candler School of Theology, Atlanta, Ga. An ordained elder in full connection in the Detroit Annual Conference, Dr. McGee also serves as director of the Michigan Area School for License as a Local Pastor. He has written and taught the curriculum at the Local Pastor Academy of Haiti, training 300 local pastors to be commissioned by the United Methodist Church in the Caribbean and the Americas. He is married to Darlene ("Dar") McGee, who works as the executive assistant to the superintendent of the Heritage District of the Michigan Conference, one of nine districts in the Michigan Conference. Ray and Dar have three married adult children and seven grandchildren.
Emily Bianchi
Director of Children's Ministries
Emily Bianchi has been GPUMC's director of children's ministries since the summer of 2019. She leads Chancel Chat with the children during Sunday morning worship service and has created a welcoming environment for our youngest worshipers. She has enhanced our Sunday School program and has worked to create quarterly mission projects that kindergarten and elementary school children work on during Sunday School. Emily is also working with our middle school and high school students, both helping them prepare for their annual mission trip to Henderson Settlement, Ky., and by incorporating monthly mission projects in their year-round activities. Emily has a bachelor's degree in elementary education from University of Michigan-Dearborn. Emily grew up and now lives in St. Clair Shores with her two children.
Douglas Dykstra
Organist
A lifelong Grosse Pointer, Doug Dykstra has been organist at GPUMC since 1979. He accompanies the Chancel Choir and also plays as a soloist on the piano and organ several times during each Sunday morning worship service. Doug began playing piano at age eight and was introduced to the organ while attending Hope College where he majored in music literature and history. He did post-graduate work in music at the University of Michigan School of Music, Ann Arbor.
Kristyn Walker
Church Administrator
Kristyn Walker joined GPUMC as church administrator in 2018. Kristyn manages all aspects of the church office, serving as the first contact for many people reaching out to the church. Kristyn spent her childhood in Kansas and moved to the Detroit area at age 13. She graduated from Grosse Pointe South High School. She is the mother of two daughters.
Heli Kharod
Nursery Attendant
Heli Kharod has joined the GPUMC staff as the nursery attendant. Heli is a 4th-grade teacher at the Hanley International Academy in Hamtramck. She has two bachelor's degrees, one in microbiology and a second in education. A native of India, she emigrated to the United States in 2014 after teaching at an international school in Gujarat for several years.