We have fun together, and we care about each other.
A crucial part of living a full Christian life is reaching out to care for others and to allow them to care for you. At Grosse Pointe United Methodist Church, we value the time that we have to get to know other members. We do this through Coffee Hour after Sunday morning worship, by gathering for many events centered around food (!), and by reaching out to those in need through our prayer quilt ministry and the Stephen Ministry.
We genuinely enjoy the company of our church family and look forward to opportunities to be together — and to welcome others into this faith-filled family.
Part of caring for others is praying for them, especially in times of great need. Please let us know if you want to be added to a prayer list, the pastor's public prayers, the pastor's private prayers, or if you would like a referral to a Stephen Minister by completing and submitting this Prayer Request form.
Coffee Hour
At the conclusion of Sunday morning worship, we gather in our Great Hall for coffee and cookies. The Great Hall becomes exceedingly noisy as worshipers gather to catch up with others. To learn more, just join us after worship on any Sunday morning!
Dinners for Eight
We create dinner groups of eight adults who are interested in getting to know other church members in a more casual setting. Typically, the groups have dinner together four times over several months, usually in the home of one of the members or couples.
Dinners for Eight builds on the Methodist foundation of small groups in which individuals can support each other to learn and grow. Some dinner groups remain together and continue to meet over the years; others stay together just for the length of the Dinners for Eight event. To learn more, contact Joan Richardson.
Prayer quilts
A group of UMW members meets several times a year to create prayer quilts that are given to individuals in need of support or for celebration. Members also can nominate a person who is not in the congregation and needs this kind of caring comfort. To learn more, contact Mary Ellen Lewandoski.
Soup Suppers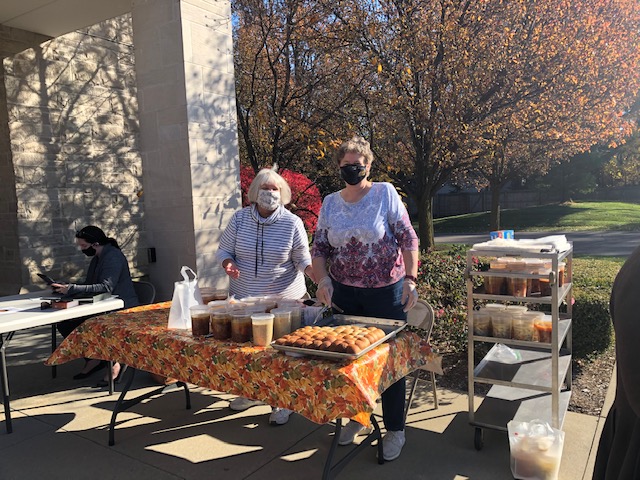 One of the things that United Methodists do really well is to enjoy the fellowship of food! With that in mind, the United Methodist Women organize Sunday night Soup Suppers several times each year. The menu varies but the spirit is always the same!
A freewill donation supports the ongoing work of the United Methodist Women.
Watch the church calendar for Soup Suppers this year.
Stephen Ministers
Stephen Ministry trains lay people to provide one-to-one Christian care in a confidential manner to individuals who are experiencing difficulties in their lives. Pastors are always on the front lines of care — this is an extension of pastoral service.
Stephen Ministry, a not-for-profit Christian educational organization based in St. Louis, Mo., was founded in 1975 by Rev. Kenneth C. Haugk. Stephen Ministry provides training and resources to thousands of congregations of all denominations and to organizations worldwide.
Grosse Pointe United Methodist Church enrolled in the Stephen Ministry Program in 1993 and, in March 1995, the first class of lay people were trained as Stephen Ministers and were commissioned at GPUMC. To learn more, contact Anne Sullivan.
United Methodist Women
United Methodist Women is the largest denominational faith organization for women with about 800,000 members whose mission is fostering spiritual growth, developing leaders and advocating for justice. All Methodist women are considered part of UMW.
At GPUMC, UMW has created a Cheer Team of about a half-dozen women who visit, telephone, and send cards to shut-ins. The team meets regularly to stay up to date on congregational needs.
To learn more, contact Nancy Grose or Tamara Baubie, co-presidents of UMW.